St David's Day - the national day of Wales and what better way to spend it than with the indigenous people, the Welsh. I regard myself as Welsh, I was born in Wales, my parents were born in Wales and my grandparents were too but 5 of my 8 great grandparents were born in England and it's their language I speak. Sometimes I'm a foreigner in my own country, I don't speak the lingo you see, I can be amongst Welshmen and I don't understand a lot of what they say. Today I walked with real Welshmen, men who were brought up speaking Welsh, men who toiled underground digging out the black gold.........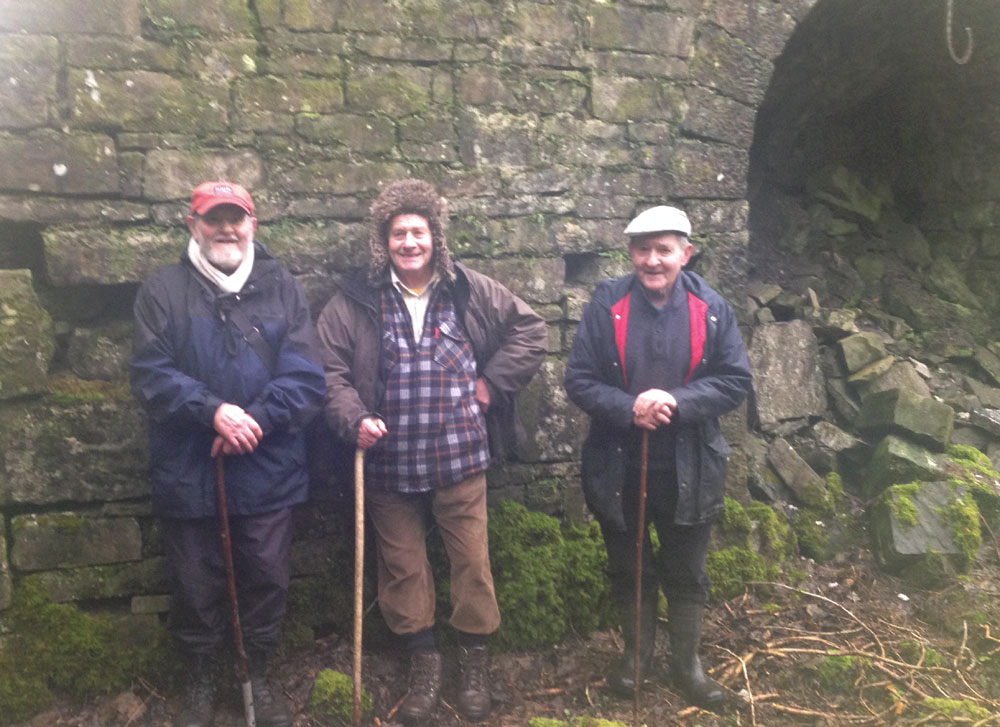 ........the brothers Jones
The brothers Jones are pictured at the Ton Pyrddin Ironworks towards the end of our walk. The man in the middle is Dan. He's my hero and I want to be like him when I grow up. I see Dan when I swim in the mornings but I've also met Dan a few times while out walking or riding my mountain bike, and mostly he's in the middle of nowhere and he's walking with purpose. Well it's nowhere to most people but to Dan it's home. Dan is 85 and he walks every day which is why I keep bumping into him. To his right is brother Emlyn, he's 83 and to his left Eirwyn, aged 82. The brothers all grew up in Banwen and the Ironworks and it's vicinity was their playground when they were growing up and they can still be seen playing there today.
A note about the Ironworks. I'm informed by the brothers that it was only open for two years in the 1840s and was abandoned almost 100 years before they were born. The structure of the works was almost complete when they were children but has fallen into disrepair since. It's on private ground and is not even marked as an 'old ironworks' or anything apart from buildings on the map. In fact I'd walked within 20 metres of it on a previous walk and didn't know it existed. See the map extract below. It's the 3 squares while the green dotted line public footpath. The Ironworks is on private land and you would need to make an appointment to view it. The brothers of course are on first name terms with every farmer within a 10 mile radius of this location so an appointment on this day was not neccesary.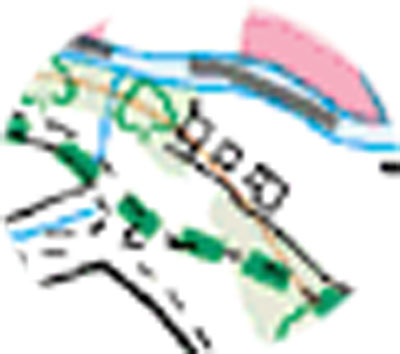 Back to the walk and we started at the cottages where the bothers grew up and Emlyn still lives, their sister Elvira lives next door. The cottages have views over the Brecon Beacons and in particular the Fan Hir ridge, still with the odd patch of snow. Within 200 metres the skies opened and my camera struggled to take photos of a pair of red kites that were floating nearby, they were still there on the return but my camera battery had packed in by then. We followed the road to Nant Hir and joined the footpath leading up towards Cwm Nant-Hir. Emlyn informed me that his aunties & unlces were previous owners of Nant Hir and that his uncle used to drive a car down the footpath we were on.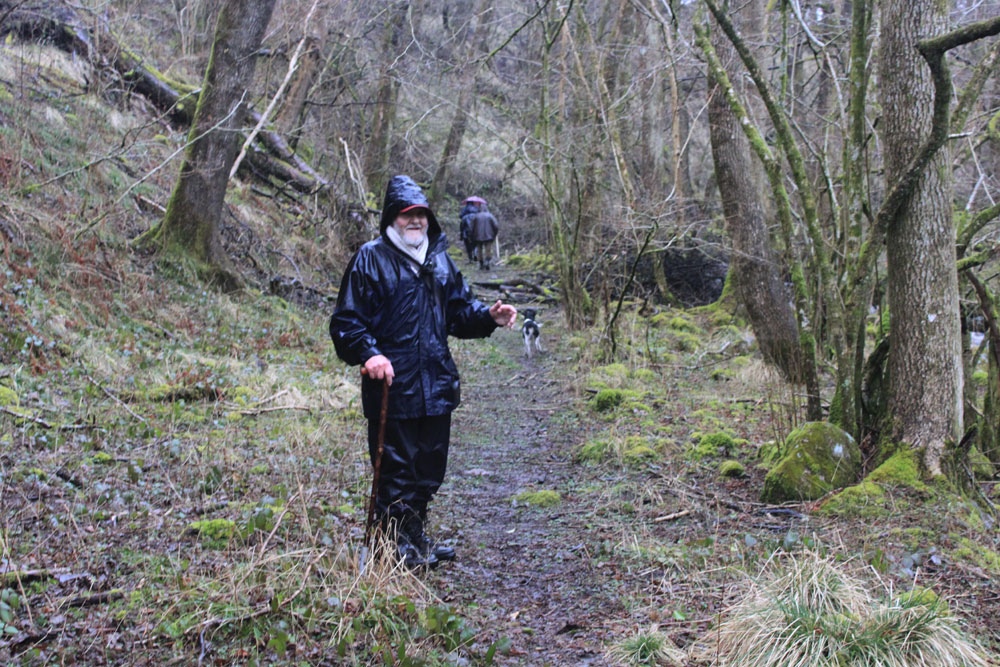 Prince the Jack Russell just trotted on and wasn't impressed. I was though and stopped to take more photos of the moss in the valley.
There was so much moss, and it was all so green that for a sort while it didn't seem like winter time. At the end of the path we turned left onto a farm track and headed for Sarn Helen, the old Roman Road to Brecon.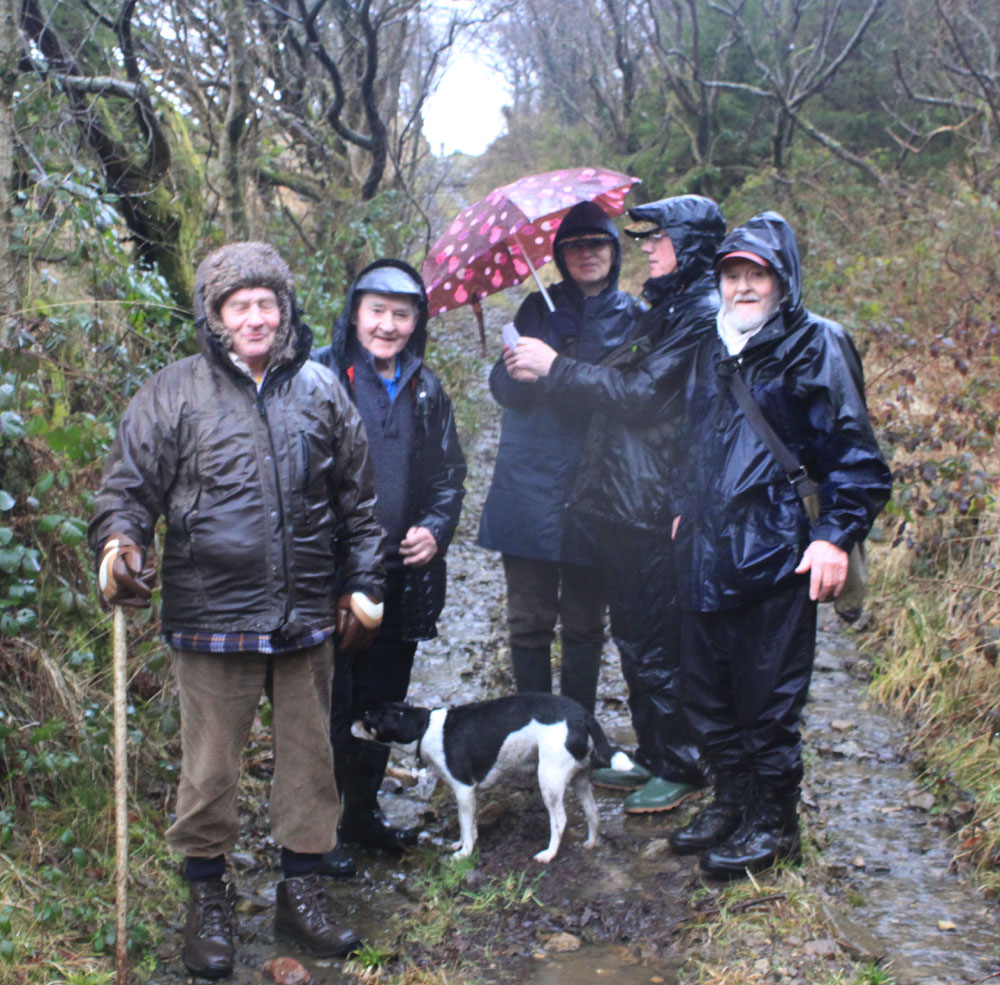 I'm the bloke behind the camera, and don't forget Prince the dog. We were only on Sarn Helen for a short while then into the forestry, looking across the valley we could see out start point and the village of Banwen in the distance.

The row of trees in the foreground was where we were heading but we had to go around the 'houses' to get there.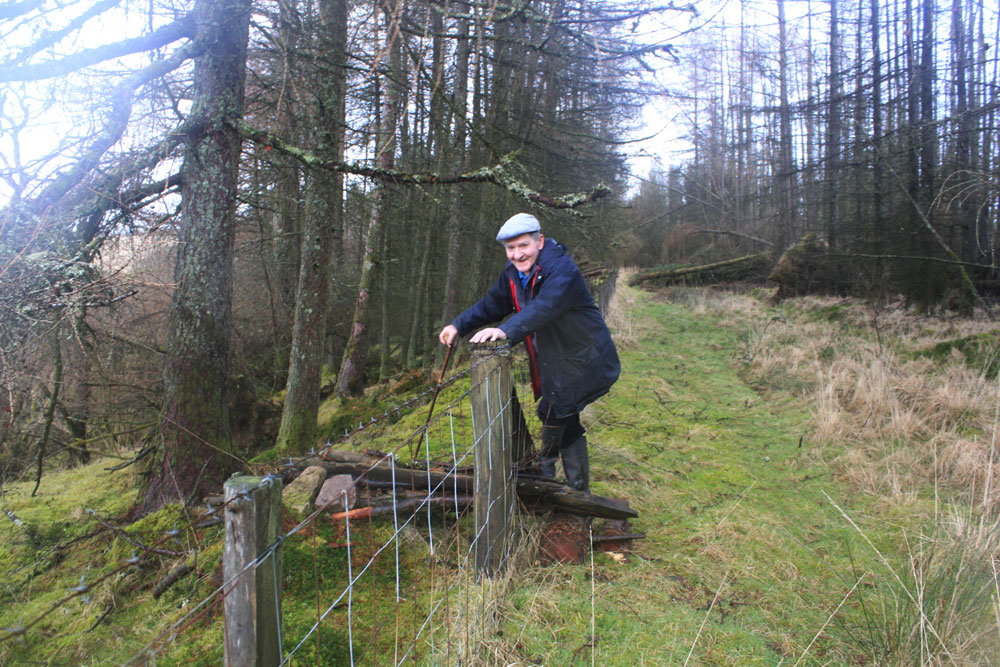 Eirwyn climbs a makeshift style.
The next location we were heading for was an old ruined farmhouse next to the Nant Hir stream. In the centre of the ruin there is a grave. J.W. died 1821. Vernon had been intrigued by this grave previously and had done some research on it. It turned out that Jenkin Williams died aged 9 months was buried there. His mother had been turned out from her home at Glyn Mercher Uchaf, about three miles away because she was unmarried and became pregnant. The family at Blaen Nant Hir took her in and Jenkin was born illegitimate. Because of this he was allowed to be buried on consecrated ground so we think that Jenkin was buried here for this reason.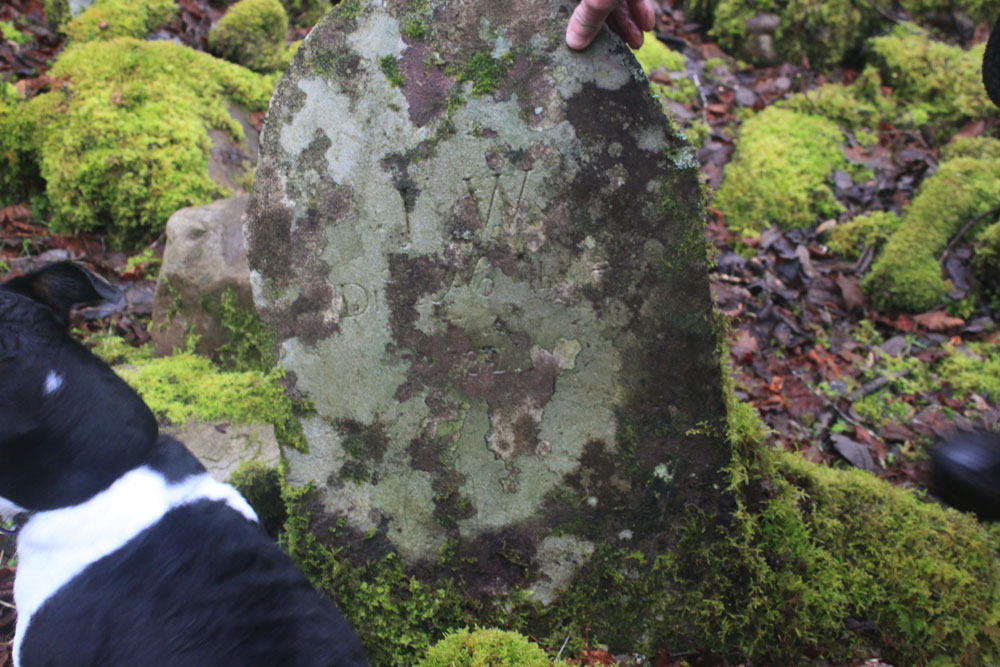 Vernon pointed out another unusual fact about this grave, the text is in English, whereas everyone in the area at this time would have spoken Welsh.
From here we headed to the Ironworks which I've previously mentioned.........
....... and from there back to our start point on the Banwen Rd, but every couple of steps Dan would point out something of historic value like............

..........there used to be a row of cottages here and.............

near where that pylon is over there - there was a school but that was demolished and completely removed when they 'open casted' the site back in the 1950s