Sunrise, Swim & Walk 9 - The Begwns, River Wye & The Black Mountains

I thought long and hard about today, my mate Willie Darcy was over from Ireland walking the Offas Dyke path and this was his day 4. His plan was to walk from Llananthony to Hay-on-Wye and I wanted to join him from Llanthony to Hay Bluff. After 150 mind changes I settled on an awesome plan and spotted it almost to perfection.

Sunrise - I headed for the Begwns range of hills near Painscastle and with a short walk from the car caught a stunning sun rising up from behind the Malvern Hills. This was the crowing glory of a previously pinky sky. I was an excited little boy jumping up and down and snapping away with my point and shoot image capturing device. Then it was off for a..........

Swim - in the River Wye at Glasbury. I'd previously taken a kayak session here for army cadets about 30 years ao so I knew the river was swimmable. I did about 100 metres, skipped some stones and headed to Hay Bluff................

Hitchhike - I needed to be in Llanthony for a 9.30 start and I parked up at the Hay Bluff, American Werewolf in London car park started walking towards Llanthony with my thumb up hitching at around 8.10. The plan being if I didn't make it to Willie by 10.30 (he planned to start at 9.30 but was giving me an hour's grace to be late if I needed to be) I'd head straight up the mountain on the Offas Dyke path and walk in the opposite direction to Willie and meet him on the way. A complicated plan indeed but workable. Come 8.40 and not one car had passed so I allowed a bead of sweat to drip from my concerned brow. *.45 and the first car/truck appears, out goes the thumb and RESULT. Mr John Barber of Tymynydd stopped and let me in. John's little Jack Russell obligingly hopped into the back and then back onto my lap for the journey, what an awesome mutt. John is a builder / dry stone waller and with his partner they run a B&B near Hay-on-Wye. The Guardian have done a nice piece on the pair ( CLICK HERE to see this ). Here is a direct link to their Trip Advisor page - CLICK HERE and this is what one of their reviews says..........

"I can't recommend this place highly enough. The location is breath-taking"

Ty-mynydd, Llanigon, Hay-on-Wye, Herefordshire HR3 5RJ

Contact details 01497 821593, nikibarber@tiscali.co.uk,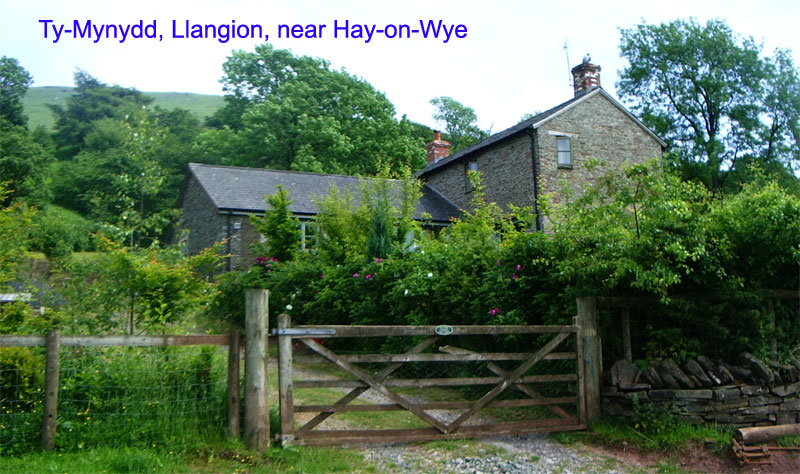 sounds idyllic and it probably is based upon my experiences of walking the area. John was working on renovating a property about 3 miles from Llanthony so he dropped me a little short of my destination. Out went the thumb again and as it was rush hour in the Vale of Ewyas with a car every 5 minutes, these were mostly populated by 3 or 4 Englishmen in white shirts off to the pub no doubt to watch their team in the Rugby World Cup. There was no stopping these fellas when up came another truck and another top man local farmer Chris Price who dropped me at the Half Moon in Llanthony at 9.20am, 10 minutes to spare and time for a chat with the lady from Blaenavon waiting for a lift. The final result of the 'Pick a Welsh hitchhiker up' competition..........
Local farmers 2 - Cars full of Englishmen 0
Walk - ......... More to follow