THIS PAGE IS UNDER CONSTRUCTION - PLEASE RE-VISIT FOR UPDATES
MY CORRUPT COUNCIL - NEATH PORT TALBOT COUNCIL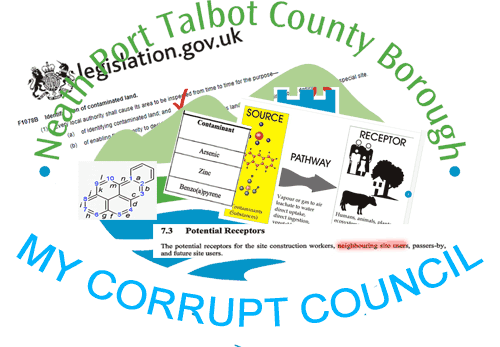 DEFINITIONS - PURPOSE OF PAGE - LINKS
GUIDE TO CORRUPTION - CORRUPT COUNCIL EMPLOYEES
According to the NPTC Corporate Plan, the purpose of the Neath Port Talbot Council is "to serve and represent the interests of its citizens and communities" and if you live in Neath Port Talbot you are most likely paying council tax to ensure that the council has the funds to carry out this obligation.
I live in Glynneath, a small town on the edge of Neath Port Talbot and I am a council tax paying resident of the county borough. Over the last 10 months (Jan 2021) I have been investigating the council's planning system in relation to a housing development that borders my property. What I have found is that corruption is widespread amongst council employees and the elected council officials of the county borough are deliberately supporting this corruption.
The actions of these corrupt employees and officials have placed my family and the families of properties bordering the development at risk of death from carcinogens and other contamination that has been hidden in the development by the previous owners of the site.
This is an unacceptable practice that must be addressed now because it is highly unlikely that this is an isolated incident and more probable that corruption is widespread in the county borough. I have built this website to help the people of Neath Port Talbot identify corrupt employees and officials of the county borough and have provided a guide on how to identify their corrupt actions.
Dai Richards
This page does not tread on eggshells, the protection of our families is of paramount importance to each and every one of us in the neighbourhood so when I say someone is corrupt. I mean that I believe someone is corrupt and I am saying this publicly so if I say that someone is corrupt and they believe they are not and that I am slandering them or my statements are libellous then I am happy to go to court to prove that what I say is correct. So that we are clear on what I mean when I say that someone is corrupt I have defined the meanings that are defined by a commonly accepted defining tool, a dictionary.
We define the words corrupt and corruption and other associated words in relation to the council employees and elected officials as follows:
ACCOUNTABLE: subject to the obligation to report, explain, or justify something; responsible; answerable or other definition of corrupt as defined by www.dictionary.com ON 24/1/2021 - CLICK HERE for a full list of definitions.
COALITION: The joining together of different political parties or groups for a particular purpose.or other definition of corrupt as defined by www.dictionary.com & https://dictionary.cambridge.org/ on 24/1/2021 - CLICK HERE for a full list of definitions.
CORRUPT: Deliberately failing to follow the council's purpose and/or rules or other definition of corrupt as defined by www.dictionary.com ON 24/1/2021 - CLICK HERE for a full list of definitions.
CORRUPTION: Any corrupt or dishonest practice or proceedings as defined by www.dictionary.com ON 24/1/2021. CLICK HERE for a full list of definitions.
PURPOSE OF THIS PAGE
The purpose of this page is to fight all types of corruption within the Neath Port Talbot Council and to replace identified corruption with systems of integrity that provide positive outcomes for the people of Neath Port Talbot.
It is my opinion that my case is not an isolated one and so I have built this study website to help other citizens of Neath Port Talbot to identify council corruption relating to their personal circumstances.
This study has evolved out of the East Glynneath - Residents Against Contamination group who found that they have been powerless to prevent an intrusive housing development on their doorstep despite a long history of council malpractice and negligence that has showed a complete disregard for the health and lives of the residents surrounding the development. Rather than addressing the concerns of the residents of East Glynneath, council employees and elected councillors have attempted to cover up this malpractice and negligence or refused to investigate our concerns.
We have used the study of this still ongoing case its related corrupt actions to form the basis of beginning of a study into corruption within the Neath Port Talbot Council.
GUIDE TO CORRUPTION WITHIN NEATH PORT TALBOT COUNCIL
We use the term official here to refer to a paid (employee) or unpaid member (volunteer) of the council staff or a paid or unpaid elected official such as a councillor.

TYPES OF CORRUPTION

We believe that government corruption can be split into the following generic categories:

SYSTEM CORRUPTION
Where an official deliberately fails to follow local or national government rules.
MORAL CORRUPTION
Where an official deliberately fails to follow a government's moral values, usually defined by an organisation as 'purpose' and 'values' and a staff 'code of conduct'.
PHYSICAL CORRUPTION
Where an official deliberately fabricates information, uses methods of deception or makes other corrupt actions while following government rules.

EXAMPLE: RA DECEPTION - CLICK HERE

CRIMINAL CORRUPTION
Where an official deliberately undertakes a criminal action in their position as a government official.
CORRUPTION COALITION
Where a group of councillors, staff, volunteers etc form an alliance to support corruption within the council.

EXAMPLE - PLANNING NOTICE - CLICK HERE

EXAMPLE - 1990 ENVIRONMENTAL PROTECTION ACT BREACH - CLICK HERE

SYSTEM PURPOSE CORRUPTION
Where a regulation or protocol is included in a system that is contrary to the system's purpose.
Corrupt actions may encompass two or more types of the above corruption.
We'd be happy to receive suggestions/additions or comments relating to the above generic categories.
HOW TO IDENTIFY CORRUPTION
RELEVANT QUESTIONS & INFORMATION REQUESTS
If you ask a council official a question or request information and they avoid the question or refuse to give you an answer then this is a key indicator of corruption. Democratic Audit, an independent research unit looking into UK government democracy states that:

"For citizens to get involved in governing themselves and participating in politics, they must be able to find out easily what government agencies and other public bodies are doing."

If the council are stopping you from receiving information. This is a purposeful action, and this purpose is most likely to avoid accountability for corruption.

Asking a relevant question - CLICK HERE
IDENTIFIED CORRUPT EMPLOYEES OF NEATH PORT TALBOT COUNCIL
Steve Ball - Planning Development Manager NPTC - Steve Ball uses methods of deception to avoid the corrupt and negligent actions of the planning department. He is a compulsive liar who regularly fabricates information when he presents it to the planning committee. - CLICK HERE FOR EVIDENCE RELATING TO THIS EMPLOYEE'S CORRUPT ACTIVITIES

We have identified at least another 18 council employees and officials who are supporting the corrupt actions of Steve Ball and we are busy organising this evidence for this website, please revisit this page at a later date to review this information.
QUOTES & REFERENCES FROM RESEARCH
Transparency International (the global coalition against corruption) ..................

WHAT IS CORRUPTION?

We define corruption as the abuse of entrusted power for private gain.

Corruption erodes trust, weakens democracy, hampers economic development and further exacerbates inequality, poverty, social division and the environmental crisis.

Exposing corruption and holding the corrupt to account can only happen if we understand the way corruption works and the systems that enable it.

To Fight Corruption, We Must Embrace Transparency

Transparency is all about knowing who, why, what, how and how much. It means shedding light on formal and informal rules, plans, processes and actions. Transparency helps us, the public, hold all power to account for the common good.

Seeking and receiving information is a human right that can act as a safeguard against corruption, and increase trust in decision makers and public institutions. However, transparency is not only about making information available, but ensuring it can be easily accessed, understood and used by citizens. - Transparency international - what is corruption
For citizens to get involved in governing themselves and participating in politics, they must be able to find out easily what government agencies and other public bodies are doing. - Democratic Audit
Search the website with Google