Dai's walk around Wales blog - January 2021
1 January 2021 - Happy New Year
NAPPY DAYS - MUMBLES WHEELBARROW RACE

Today is the 31st anniversary of our last victory at the Mumbles Rugby Club new year's day charity wheelbarrow race, we won this two or three times. This particular year, we turned up this year with our sleek new racing outfits and it was a nappy for the three of us (Jeff Rees, front, me in the middle and Jeff JRG in the rear as we broke our own course record. We covered the 2.5 mile course in just over 12 minutes making the pace a touch under 6 minutes a mile. The rules were that one person had to sit in the barrow at all times when it was moving but unfortunately for JRG his racing pace was a little slower than that so we made him sit in the barrow the whole way so that Jeff Rees and I could take it in turns to push. With the temperature being around 1 or 2 degrees by the end poor Jeff was almost blue.
1 January 2021 - Happy New Year Again
It was a nice day so I headed off once more to Sgwd Einion Gam on the Pyrddin. As the crow flies this waterfall is only about 2 miles away from my house but of the Brecon Beacons, Waterfall Country waterfalls it is by far the hardest to get to. Apologies for the quality of the, its a screenshot from a video which I hope to publish to youtube soon.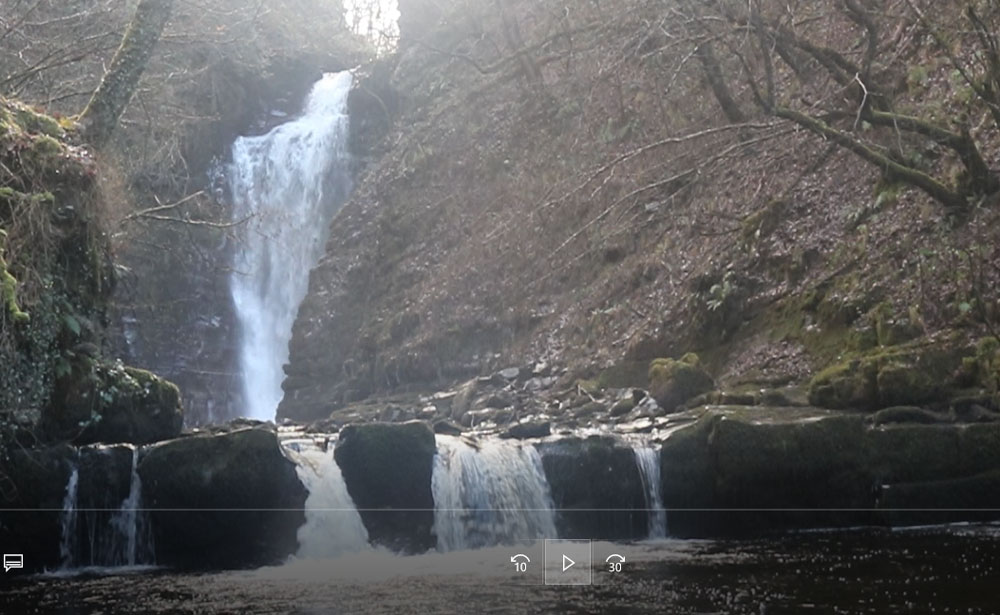 8 January 2021
| | | |
| --- | --- | --- |
| | Continuing on the theme of the Afon Pyrddin and Sgwd Einion Gam, today is the 12th anniversary of a walk we did in the middle of a cold snap and the waterfalls in the area had almost frozen over completely. Dale Thomas, Martin Naughton & myself took time out to enjoy the spectacular frozen falls of the Afon Pyrddin. Both Sgwd Gwladys and Sgwd Einion Gam were looking amazing, the photos don't do the walk justice, there were icicles everywhere and with the river surface completely frozen from Sgwd Gwladys upwards reaching Sgwd Einion Gam with dry feet was a luxury we'd never experienced before. | |
12 January 2021
WINTER SWIMMING - NEOPRENE GLOVES, SOCKS & HOOD / HAT REVIEW

Covid lockdown had got to me because I hadn't swum since I had a quick dip on Swansea beach in November and my last decent swim was in September. I'd managed a swim every month last winter and January was probably the coldest month so I knew that to get a decent swim in, to enjoy it and to be relatively warm after it I needed some additional kit. With this in mind I ordered 3 neoprene swim accessories from ebay, gloves, socks and a hood/hat. Off to the beach I went on my trusty Roberts, the rest of the story is on youtube. Please click the link below.
☺
Search the website with Google
January 2021
January 2021
January 2021
January 2021
January 2021